The Chinese-German EV maker develops an electric SUV with a futuristic design and features to rival the Tesla Model Y SUV.
First unveiled at the Frankfurt IAA 2019, Byton M-Byte electric car is the first premium SUV from the German-Chinese startup. Boasting a whole host of premium features, modern tech, futuristic cabin and elegant exterior styling, the M-Byte is considered a worthy Tesla Model Y rival at a much more affordable price. However, the pandemic squelched the plans for production in 2020-21. If the EV maker is able to revive from that, we might see the production commence this year (2022).
You might also like: Fisker Ocean Electric SUV – Range, Specs, Features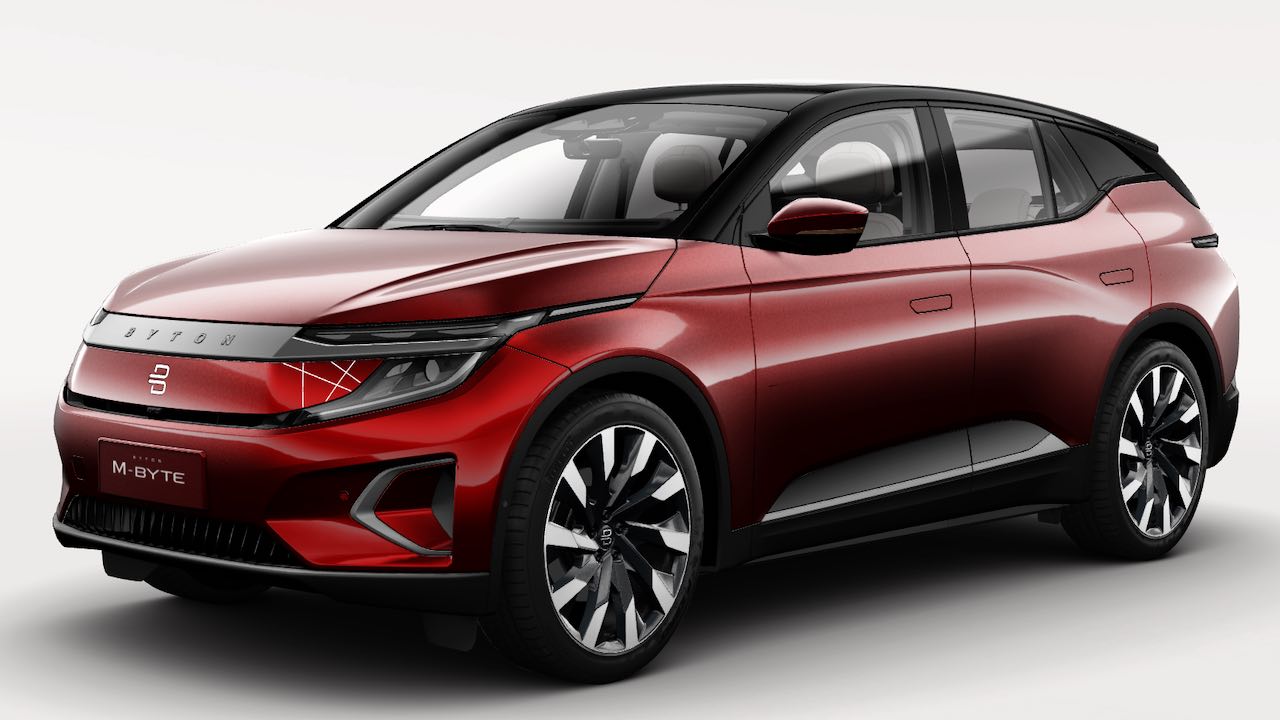 Byton M-Byte Electric Car – Specs
The Byton M-Byte electric SUV comes with the option of choosing between an RWD or an AWD drivetrain. Here are the details of all the specs that the M-Byte offers.
| | | |
| --- | --- | --- |
| Byton – Specs | M-Byte RWD | M-Byte AWD |
| Battery (kWh) | 72 | 95 |
| Power Output – kW (hp) | 200 (268) | 300 (402) |
| Acceleration – 0-100 km/h (secs) | 7.5 | 5.5 |
| Range – NEDC (km) | 430 | 550 |
| Charging w/ 150 DC (0-80%) (mins) | 35 | 35 |
Byton M-Byte Electric Car - Specs
You might also like: Is Edison Future (EF1-T) A Worthy Competitor To Tesla Cybertruck
Byton M-Byte Electric Car – Dimensions
Byton M-Byte is an electric SUV that looks more like a large crossover hatchback. Nevertheless, its dimensions are comparable to any mid-size SUV out there.
| | |
| --- | --- |
| Byton M-Byte | Dimensions (mm) |
| Length | 4875 |
| Width | 1970 (w/o mirrors) |
| Height | 1665 |
| Wheelbase | 2950 |
Byton M-Byte Electric Car
- Dimensions
Byton M-Byte Electric Car – Interior and Features
The inside of the cabin is where the futuristic and unique elements become evident. The interior layout is dominated by a colossal 48-inch touchscreen (largest ever on a production vehicle) that rests on the dashboard covering the entire width of the car, a 4-seat configuration enabling acres of space for the rear passengers along with premium convenience features, heated and massage functions with 6-way power adjusted seats, hand gesture recognition, face recognition, onboard WiFi, GPS, and other connectivity features with 300 Mbps data speed, 10-degree inward rotating front seats to warrant a better conversation with the rear passengers, Byton ID for customising every setting in the car depending on user profiles, and much more.
You might also like: 2022 Ford Mustang Mach E – Range, Specs, Models, Prices
Launch and Price
While Byton had a ton of reservations from China, Europe, the U.S. and Canada, the pandemic caused a massive delay in the production. Thereafter, the company went through a tough period in terms of financing causing further delay. Now, the production can only commence once the finances are taken care of and the EV maker revives in the aftermath of the pandemic. We might see it happen during the course of this year (2022) if everything works. Once launched, the price is expected to be around $45,000 in the U.S.