Canoo is a California-based startup that plans to deliver the lifestyle electric pickup truck next year (2023) along with commercial vans (about to commence deliveries of 4,500 EVs to Walmart).
Canoo electric pickup truck might just be the EV you would actually need. While there are the colossal pickup trucks that have an established customer base, the relatively more compact electric trucks would prove to be far more practical in terms of everyday usage like in parking lots and charging stations. Canoo is a whole 4 ft shorter than the Ford F-150 Lightning. Established in 2017 by credible founders who had prior experience of working at BMW and Faraday Future, Canoo certainly knows what its doing.
You might also like: Is Rivian R1T Electric Truck A Perfect Rival To Ford F-150 Lightning?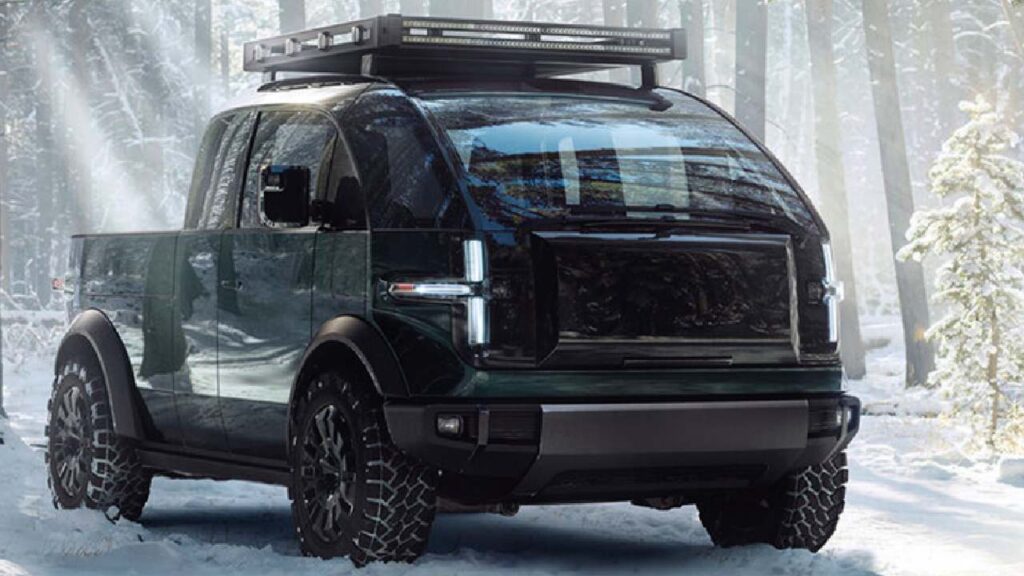 Canoo Electric Pickup Truck – Specs
It comes with the option of a single (rear) or dual motor configuration.
| | |
| --- | --- |
| Canoo Pickup | Specs |
| Drivetrain | Single (RWD) or Dual Motor (AWD) |
| Battery | 80 kWh |
| Max Power | 600 hp |
| Max Torque | 550 lb-ft (746 Nm) |
| Range | 200+ mi (322 km) |
| Payload Capacity | 1,800 lbs (816 kg) |
Canoo Pickup Specs
You might also like: VinFast VF8 Will Be The First EV From Vietnam
Dimensions
The Canoo is a lifestyle pickup truck but its dimensions are not as monstrous as a full-sized pickup truck making it a perfect companion, especially for city use.
| | |
| --- | --- |
| Canoo Pickup | Dimensions |
| Length | 284 in (4,677 mm) |
| Width | 78 in (1,980 mm) |
| Height | 76 in (1,920 mm) |
| Wheelbase | 112.2 in (2,850 mm) |
| Bed Width | 64 in (1,627 mm) |
| Bed Length | 72 in (1,817 mm) |
| Bed Depth | 21 in (522 mm) |
Canoo Pickup Dimensions
You might also like: Faraday Future FF91 is the Ultra-Luxury EV of the Future
Features
As is the case with every pickup truck, it becomes crucial to equip it with utilitarian and practical functions. In this case, the Canoo comes with a 6-ft-long Pull-out Bed Extension (up to 8 ft) with a secondary lamp, a Fold Down Worktable + Cargo Storage with electrical outlets, Flip-Down Side Tables that could become another workbench with power sources nearby, Side Step that could double up as storage for first-aid kits, cooler for snacks and drinks, Modular Cargo Bed with Space Dividers to package things more efficiently, Tow Hitch Receiver, Roof Rack, LED Lighting, Camper Shell to attach tents, etc and much more.