First showcased at the LA Motor Show in 2021, Kia EV9 has made it to production.
The global premiere of the flagship electric SUV is slated for March 15, 2023.
It is based on Hyundai Group's E-GMP architecture that supports 800V charging.
The upcoming Kia EV9 has been partially revealed via official teasers by the Korean carmaker. EV9 will sit above the existing and wildly successful EV6. In fact, the EV9 will be Kia's flagship electric car based on the E-GMP (Electric Global Modular Platform). We have seen the 7-seat electric SUV undergoing thorough and rigorous tests over the last year but the latest teaser reveals the final production version. The global premiere is slated for March 15, 2023.
You might also like: 2023 Hyundai KONA Electric vs 2023 Kia Niro EV – Specs, Range and Price Comparison
Kia EV9 – Specs
While the official figures will be out closer to the launch, we have an idea of what the Korean carmaker could equip the EV9 with. There could be three variants to choose from – a regular RWD, a long-range RWD and a performance-focused dual-motor AWD trim. As far as the battery capacity is concerned we might see a 100 kWh unit on the AWD and long-range RWD trims which would be the largest on any Kia EV ever.
What we know is that it will support an 800 V electrical architecture which means that the DC ultra-fast charging will be capable of 350 kW charging. This will allow the EV to be charged upto 80% in around 20 mins. We could expect a driving range of around 300 miles (483 km) and the power figures could range from 200 hp to 400 hp.
| | |
| --- | --- |
| Kia EV9 | Specs (expected) |
| Battery | 100 kWh |
| Range | 300 mi (483 km) |
| Acceleration (0-100 km/h) (0-62 mph) | 6 secs |
| Power | 200 hp – 400 hp |
| DC Ultra-Fast Charging | 350 kW |
| Architecture | 800 V |
Expected Specs of Kia EV9
You might also like: Hyundai IONIQ 6 vs Kia EV6 – Specs, Price Comparison
Kia EV9 – Dimensions
The one thing we know from the concept is the dimensions. The electric SUV will be just under 5 m in length which will liberate a more-than-generous wheelbase of 3.1 m. Moreover, the flat floor will allow it to feel even more spacious which is a trait of the modern EVs.
| | |
| --- | --- |
| Kia EV9 | Dimensions |
| Length | 4,929 mm (194 in) |
| Width | 2,055 mm (81 in) |
| Height | 1,790 mm (70 in) |
| Wheelbase | 3,100 mm (122 in) |
Kia EV9 Dimensions
Interior and Features
Hyundai Motor Group is focusing its attention on the use of sustainable and recyclable materials to develop the interior of its latest and futuristic EVs. As a result, the Kia EV9 will have no use of genuine leather but vegan leather and other sustainable materials including fishnet debris, recycled plastic water bottles, bio extracts and much more. Apart from that, there would be a large panoramic sunroof, a large infotainment display that could be connected to the instrument cluster to form a single seamless unit of glass (the concept features a 27-inch screen), V2L, Connected Car Tech Features with OTA Updates and Kia's AutoMode for Autonomous Driving functions.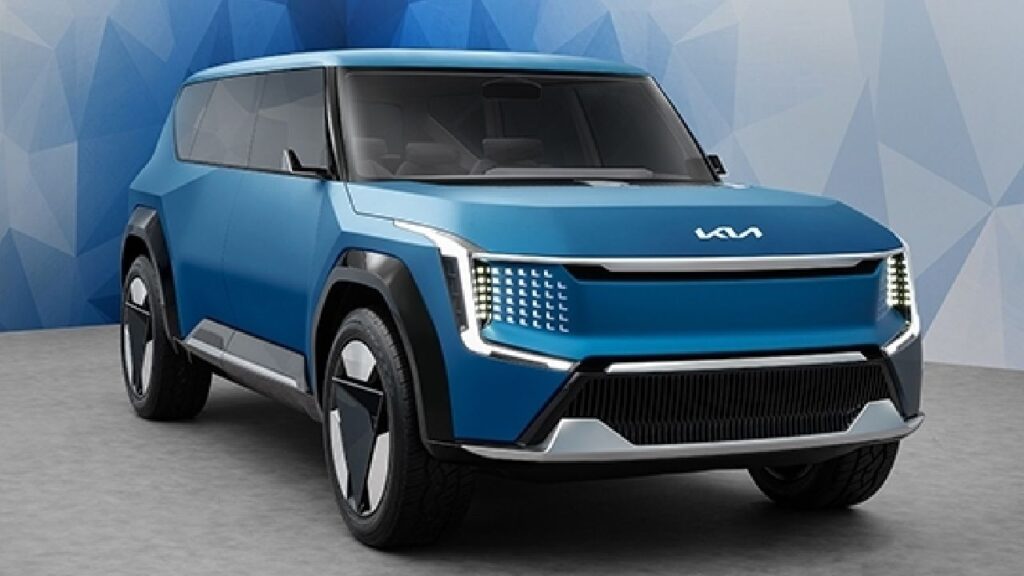 You might also like: What Is Vehicle To Load (V2L) & Which EVs Have This Feature?
Price
While the official prices will be announced closer to the launch, there has been a survey that indicates that the electric SUV could retail in the vicinity of US$56,000 and US$73,000. Nevertheless, we shall update this post with the actual data once the Kia EV9 is revealed on March 15, 2023.