Stella Vita electric camper van (RV) is a self-sustaining mobile house that is aimed at those who like to live on the road. The trend of RVs in many parts of the world is well-established since decades. But there has been scarce development when it comes to electric RVs even though the EV wave in terms of passenger vehicles is more prevalent than ever. The Stella Vita is a project developed by 22 students from the Eindhoven University of Technology.
You might also like: Tesla to Make PMS Motor Without Rare Earth Elements
Stella Vita – European Tour
This one-of-a-kind electric camper van was able to successfully complete a 3,000 km trip from Eindhoven (the Netherlands) to Tarifa (Spain) (also called the southernmost tip of Europe) primarily using solar energy. The initial days witnessed bad weather which is why the team had to plug it in 2 times. The rest of the journey was completed just using solar power. The fact that the last leg was in Spain (a sunny country) was a positive as well.
You might also like: Why Electric Cars Catching Fire Must Concern You
Specs and Technology
Stella Vita electric camper van has a 60 kWh Li-ion battery pack. Since the focus is just on efficiency, the design takes care of the aerodynamics which is why the RV looks the way it does. As a result, a 600 km of combined range is offered by the electric RV which extended to 730 km on a sunny day.
The roof has a retractable surface where additional solar panels are installed making the total area to be 17.5 m2 from 8.8 m2 when the roof is folded. In regular settings, it would take 2-3 days for it to be fully charged when standing still. There is an aluminium chassis and glass fiber shell to maximize range. It has 4 doors and can carry 2 passengers. The top speed is capped at 120 km/h.
| | |
| --- | --- |
| Stella Vita Electric Camper Van | Specs |
| Powertrain | Solar |
| Battery | 60 kWh |
| Range | 600 km |
| Solar Panels (max area) | 17.5 m2 |
| Charging | 2-3 days |
| Top Speed | 120 km/h |
Specs of Stella Vita
You might also like: 2024 Cadillac Lyriq is Brand's Foray into the Electric Future
Stella Vita – Dimensions
Being a quintessential RV, it is 7.20 m in length, 2.05 m in width (w/ folded roof panels), 4.40 m in width (w/ open roof panels), 1.83 m in height (w/ folded roof panels) and 2.54 m in height (w/ open roof panels). The electric RV weighs just 1,700 kg and even some standard EVs are heavier than that. That is achieved using lightweight materials for the interior cabin, kitchen, etc.
| | |
| --- | --- |
| Stella Vita | Dimensions |
| Length | 7.20 m |
| Width (w/ folded roof panels) | 2.05 m |
| Width (w/ open roof panels) | 4.40 m |
| Height (w/ folded roof panels) | 1.83 m |
| Height (w/ open roof panels) | 2.54 |
| Weight | 1,700 kg |
Dimensions
You might also like: Canoo Electric Pickup Truck Could Be The EV You Really Need
Interior and Features
The main attraction of the Stella Vita electric camper van is the spacious inside. In fact, the layout is perfect to make you like you are sitting in the living room of your house. There is a full-size double bed, kitchen, wash basin, seating, TV, shower, toilet, sofa, and anything that you would typically find in a home. The electricity requirements are taken care of by the system itself which keeps charging with the sunlight all the time. It is designed keeping in mind that the owners could choose to live and work from their RV for days on end.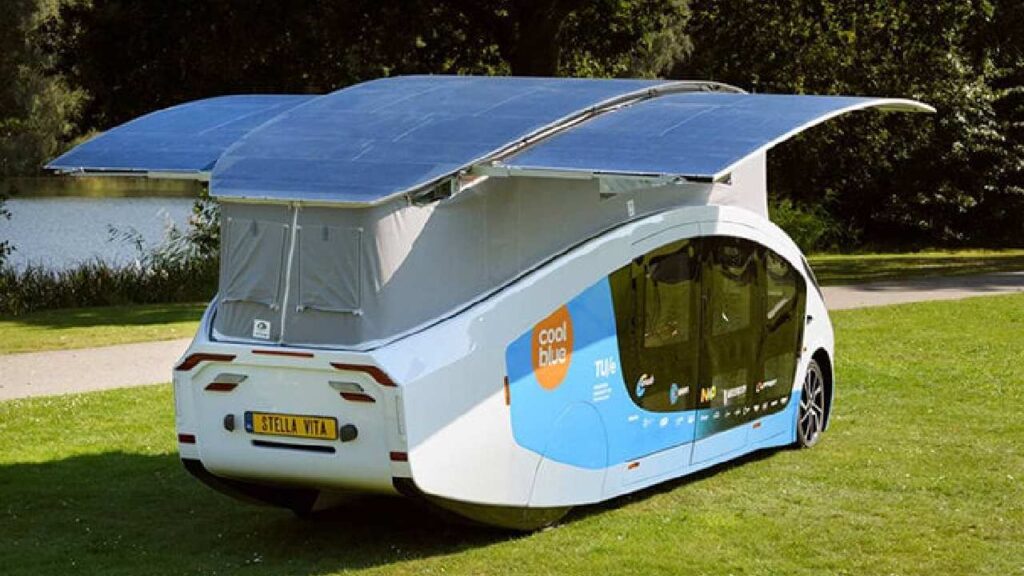 The team has successfully completed the 3,000 km tour in it. Now, they are waiting for some big automotive player to take it to the masses with its resources. Therefore, it won't be unfair to say that we might not see it out on the road anytime soon. Nevertheless, innovative projects like these reflect the kind of future in electric mobility that we are heading toward. We shall keep an eye out for more such interesting developments.