The future of the automotive industry is poised to be characterized by electrification. Therefore, it's worthwhile to explore the top 5 upcoming electric pickup trucks expected in the upcoming year (2024).
In 2024, the electric vehicle landscape is set to experience unprecedented growth and innovation, promising a transformative shift in the automotive industry. Significant strides in battery technology have extended EV ranges, effectively addressing a long-standing concern. The market is brimming with diverse models, offering consumers a plethora of choices from sleek sedans to robust pickup trucks. Governments worldwide are increasingly dedicated to sustainable initiatives, providing incentives to encourage EV adoption.
Charging infrastructure has expanded, alleviating range anxiety and making electric vehicles a viable option for a broader audience. With the growing awareness of environmental concerns, the future of electric vehicles appears exceedingly promising, poised to redefine the way we commute and contribute to a greener tomorrow. Let's take a look at the exciting upcoming electric pickup trucks that we might witness in the coming year.
You might also like: Top 5 Unique Upcoming Electric SUVs in 2024 – Part 1
Top 5 Electric Pickup Trucks in 2024
Canoo Pickup Truck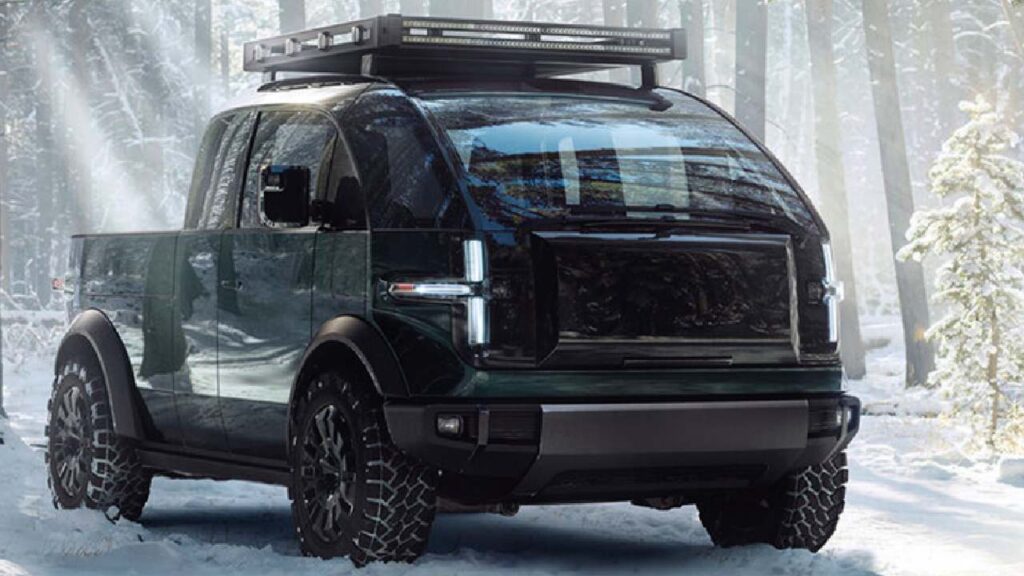 Founded in 2017 by experienced individuals with backgrounds at BMW and Faraday Future, Canoo is well-versed in the automotive industry. Compared to the Ford F-150 Lightning, Canoo is significantly shorter, measuring a whole 4 feet less. This compact size enhances its practicality for city driving conditions without compromising on functionality. The electric pickup truck will have either a single-motor RWD or dual-motor AWD configuration. It will carry an 80 kWh battery and the total power and torque output stands at 600 hp and 550 lb-ft (746 Nm). On a single charge, it will travel in excess of 200 miles (322 km) and the payload capacity is 1,800 lbs (816 kg).
You might also like: Could Dongfeng M-Hero 917 Be Perfect Rival to Hummer EV?
Fisker Alaska
American automotive giant, Fisker is set to enter the pickup truck market after the Ocean crossover with the stylish Alaska. Comparable in size to a Rivian R1T, Fisker aims to offer Alaska at a starting price of just $45,400 when production begins in 2025. The anticipated range for the 75 kWh battery is 230 miles (370 km), while the 113 kWh unit is claimed to reach 340 miles (547 km). Expectations include both dual- and single-motor setups, with approximate acceleration times ranging between 3.9 and 7.2 seconds, depending on the model.
A notable feature of Alaska is a retractable divider behind the rear seats, extending the bed from 4.5 feet to 7.5 feet, or a maximum length of 9.2 feet with the rear seats folded flat. Additional details are expected next year. Fisker says that the Alaska will be manufactured in the U.S.
You might also like: New 3D Technology Claims To Make EV Batteries Safer
GMC Sierra EV
Prepare for the arrival of the GMC Sierra EV, marking the brand's debut in the electric pickup truck segment. While it shares its foundation with the bold GMC Hummer EV, the Sierra distinguishes itself by adopting a less extreme approach in various aspects. However, the initial models may not be as budget-friendly as its corporate counterpart, the upcoming Chevy Silverado EV. The electric Sierra is set to debut in early 2024. It will feature only the Denali Edition 1. This high-end model boasts a 754-hp all-wheel-drive powertrain with an estimated range of 400 miles (644 km), but it comes with a hefty price tag of nearly $109,000. This six-figure cost encompasses GM's Super Cruise hands-free driving system, rear-wheel steering enabling Crab Walk, and an interior adorned with GMC's finest materials. Fortunately, more affordable Sierra EV models are expected to follow in 2025.
You might also like: Munro MK_1 is an Electric SUV with Traces of Land Rover Defender
Ram 1500 EV
Just a month following the introduction of the revolutionary and visually impressive Revolution Concept, Ram has unveiled a considerably more subdued production model, now named the Ram 1500 REV. The production pickup adheres to a more conventional design reminiscent of gas-powered trucks, albeit with redesigned front and rear ends. Riding on the new STLA Frame architecture, specifically crafted for body-on-frame electric vehicle (EV) models, the REV will feature all-wheel drive with motors on both the front and rear axles. Ram has additionally confirmed the availability of a range-extender version with a gasoline engine. Production is slated to commence next year, and further details are expected to be revealed soon.
You might also like: Which is Better EV Battery Cooling System – Liquid or Air?
Toyota Tacoma EV
The next iteration of the Toyota Tacoma mid-size pickup is in the pipeline. Indications strongly suggest the inclusion of both a hybrid variant and a battery-electric version. Toyota unveiled a variety of electric vehicle (EV) concepts in 2021. The electric pickup concept possesses the precise size, shape, and attitude that strongly hints at a forthcoming electric Tacoma. It could potentially arrive as early as next year. Sporting a four-door crew cab, a short bed, and robust all-terrain tires, it appears to embrace the same rugged demeanour as the existing Tacoma TRD Pro models, albeit with a completely different powertrain configuration underneath. These are the top 5 upcoming electric pickup trucks in 2024.