There are around 50,000 DC fast charging stations in the US as of Jan 2023.
However, only around 6,600 support DC fast charging amounting to just 13%.
Out of these, Tesla has 1,600 Supercharging stations, while Electrify America has 800.
This number needs to go up significantly in the immediate future to encourage new buyers to mass adopt EVs.
Electrify America charging network is the largest non-Tesla DC fast charging network in the USA. However, the greater concern is that only 13% of the public charging network in the USA is DC fast charging. The rest is Level 2 AC fast charging which takes hours to juice up the EV batteries. To be honest, highway and public charging stations must support DC fast charging because that is what the highway users need.
They charge their electric cars using the slow, Level 1 and Level 2 chargers at home or parking lot of the office along with public places like shopping malls, food courts, etc. Despite the Government's promise of rapidly developing the charging infrastructure across various states in the USA, the focus must be on installing DC chargers rather than Level 2 chargers which is the case at the moment.
You may also like: Are Electric Car Chargers Universal – Types of Chargers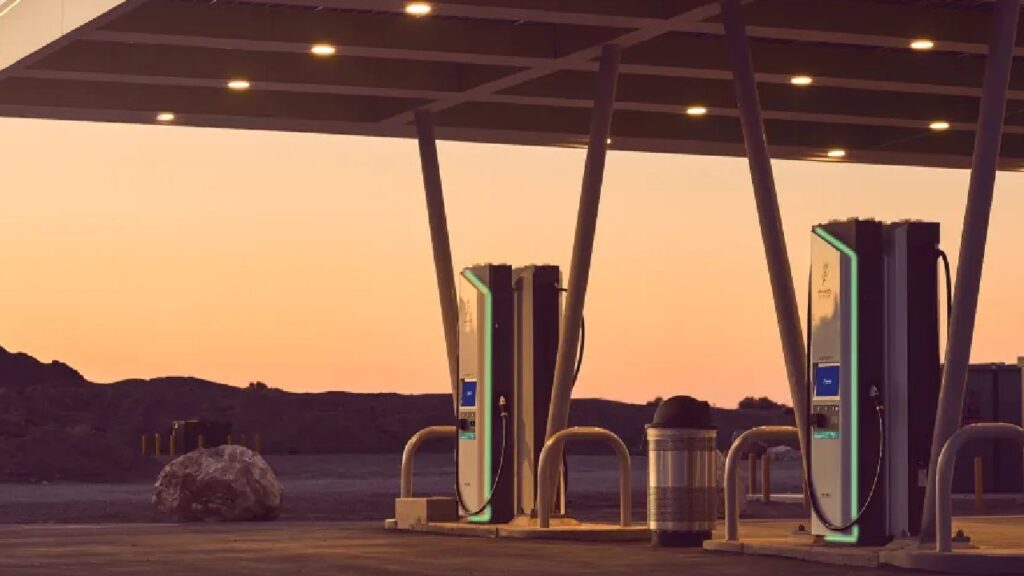 EV Charging Network in the USA
According to the data from the US Department of Energy, there are around 50,000 charging stations in the USA with 130,000 charging ports. Out of these, around 44,000 are Level 2 charging stations with over 100,000 charging ports. These have much slower charging capabilities compared to DC fast chargers. The number of DC fast charging stations out of the total is just 6,600 with around 28,000 charging ports.
Interestingly, ChargePoint is the largest public charging network provider with about 27,000 charging stations and 50,000 charging ports out of the total 50,000. Most of these are Level 2. Then there is Tesla with around 6,000 stations and 28,000 charging ports followed by around 8,500 non-networked EV charging stations with almost 18,000 charging points.
You may also like: Nio EC7 Has a CLTC Range of 920 km – Specs & More
Electrify America Leads Non-Tesla DC Charging Network Race
Electrify America is owned by the German auto giant, Volkswagen (VW). As per the US Department of Energy, Electrify America has about 800 DC fast charging stations with 3,600 fast-charging ports in the US. It is second to the proprietary 1,600 Supercharging stations by Tesla with 17,000 fast-charging ports. Note that in order to connect a non-Tesla EV to its charger, an additional connector is needed.
However, currently, in North America, only Tesla vehicles can access the Supercharger network but the plan is to open it up to other EVs in the near future. Apart from these two prominent players in the DC charging network, EVgo also boats a decent 2,200 charging ports, while ChargePoint has about 1,800 DC fast-charging ports in the country.
You may also like: 2023 Kia Niro EV Wind vs Wave – Price & Features Comparison
Charging Network Speeds – Electrify America, Tesla, EVgo & ChargePoint
Electrify America offers DC fast charging rates of up to 350 kW and its dense network allows non-Tesla EVs to go on a road trip almost anywhere in the country. Ford has partnered with Electrify America and every Mustang Mach-E owner gets 250 kWh of free DC fast charging at these charging stations. Tesla also offers charging speeds upto 250 kW at the Supercharging stations.
Tennessee-based EVgo offers charging speeds ranging from 100 kW to 350 kW and General Motors (GM) has secured a deal with EVgo to install over 2,700 DC fast charging stations by 2025. It will have an average of 4 charging ports per station. Finally, the California-based ChargePoint has around 1,700 DC fast charging ports.
Other notable players in the space include Shell-owned Greenlots (around 550 DC fast charging ports), Francis Energy (around 530 DC fast charging ports), EVConnect, EVCS and Blink, each with less than 250 DC Fast Charging ports.
The Biden government is investing $5 billion over the next 5 years to enhance the national EV charging network in the country. Moreover, the National Electric Vehicle Infrastructure (NEVI) Formula Program offers over $1.5 billion in funding for states to construct EV charging networks.