Urban mobility solutions have specific roles to fulfil compared to regular vehicles.
The EV industry is, therefore, adopting the route of mini-electric cars.
These are parking-friendly, as well as affordable.
Top mini EVs in 2023 range from a peppy Microlino to the shape-shifting City Transformer CT-1.
This blog post discusses the top 5 mini EVs that we could see in 2023 from various parts of the world. The main challenges with EVs at the moment include high initial costs, range anxiety and lack of adequate charging infrastructure. However, with mini urban electric cars, these aspects are addressed quite convincingly.
Mini EVs are affordable, the range is not that big of an issue because one uses it just for a quick city trip and the charging infrastructure is not that relevant since most of these will be charged exclusively at home. Hence, they make an excellent case for enabling the future of urban mobility. Here are the top 5 mini EVs to look forward to in 2023.
You might also like: Does The Aptera Solar Electric Car Really Have a 1,000 Miles Range?
Top 5 Mini EVs in 2023
Microlino
Microlino mini EV has been developed by the Italian carmaker. It comes powered by 3 Lithium-ion battery packs – 6 kWh, 10.5 kWh and 14 kWh offering a range of 95 km, 175 km and 230 km respectively. Its power and torque outputs stand at a decent 12.5 kW (16.76 hp) and 89 Nm with a top speed of 90 km/h. The 496-530 kg mini electric car takes 3-4 hours to charge fully. It is 2.52 m long and has a handy luggage compartment of 230 litres.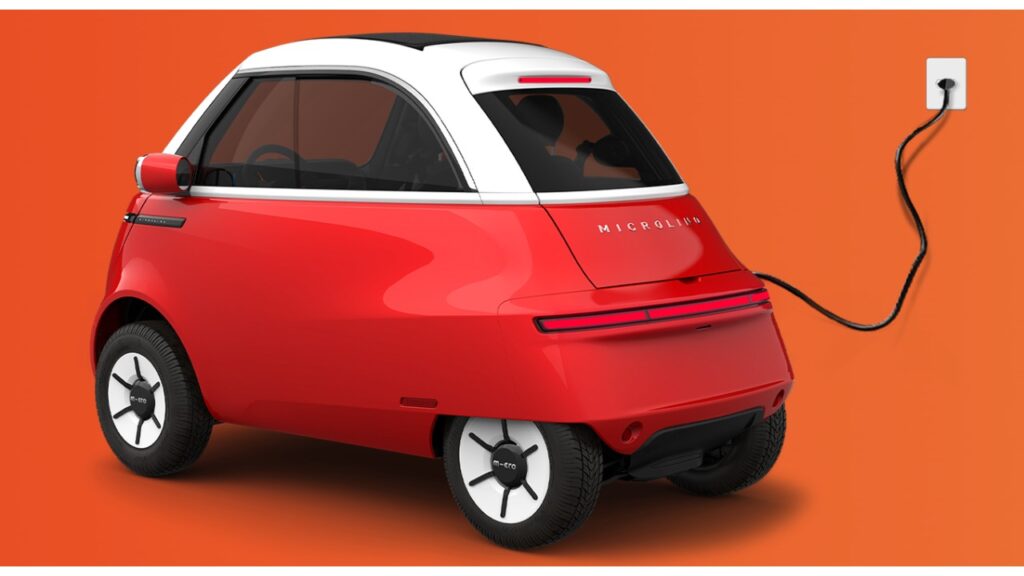 City Transformer (CT-1)
City Transformer describes itself as the EV tech disruptor from Israel. The CT-1 boasts a party trick of being a shape-shifting EV. It can reduce its width while travelling from 1.4 m to 1 m under 40 km/h in real-time. The flexible chassis enables the wheels to retract reducing the overall width to accommodate itself into tight urban parking spots when needed.
The 590 kg EV has a range of 180 km and takes 30 mins to charge from 10% to 80% with a top speed of 90 km/h. It has a power output of 15 kW propelling it from 0-50 km/h in just 5 secs. The length of CT-1 is 2.5 m and it has a wheelbase of 1.8 m.
You might also like: Microlino Urban Mini EV – Specs, Range, Price & More
PMV Eas-E is Among the Top Mini EVs in 2023
PMV Electric is an Indian EV start-up that has developed the 2-seater Eas-E mini EV (quad-cycle). It comes with a 48 V Lithium-Ion-Phosphate battery that can be charged in less than 4 hours. There are options of choosing from three trims (as per range) – 120 km, 160 km and 200 km.
The electric motor churns out 13 hp and 50 Nm of max power and torque and has a top speed of 70 km/h. The acceleration from 0-40 km/h takes less than 5 secs. The micro EV is 2.91 m long and has a wheelbase of 2.08 m. The ground clearance is a decent 170 mm.
Opel Rocks-e
German auto giant Opel has created an urban EV, Rocks-e. It is 2.41 m long and has a weight of just 471 kg. It comes with a 5.5 kWh battery pack that powers an electric motor to produce 12 hp of max power. The Rocks-e boasts a decent range of 75 km on a single charge and can be fully charged in around 4 hours. The 2-seater mini EV has door openings in opposite directions.
You might also like: Abarth 500e Electric Hot Hatch – Specs, Range, Features & More
Estrima Biro is Among the Top Mini EVs in 2023
Estrima is an Italian company that makes the Biro 2-seater 4-wheeled mini EV. It comes powered by two battery pack options offering 55 km and 100 km of range on a single charge. The Biro has a maximum power output of 3.3 kW and a top speed of 60 km/h if it has the Bolt set up.
The mini EV is 1.74 m long, 1.03 m wide and 1.565 m high. It has a ground clearance of 190 mm. The main highlight of the Biro is its detachable battery pack enhancing the security and convenience of charging it at home or the workplace. These are some of the top mini EVs to watch out for in 2023.