Marking the 100th anniversary of MG Motors, the 2-door Cyberster EV has been officially announced at the recently concluded Shanghai Auto Show with launch slated for 2024.
MG Cyberster EV has been officially announced by the Chinese-owned British car marque at the recently culminated Shanghai Auto Show. It is a two-door roadster that will display an exhilarating performance on the back of being the most powerful MG yet. While the overall industry is heading toward electric SUVs, MG is taking a different route to reinstate an electric roadster in the market. Commemorating the 100th anniversary of the brand, Cyberster EV is slated for launch in 2024 in UK and Europe.
You might also like: First-Ever Mercedes Maybach EQS Luxury SUV Revealed
You might also like: BMW i7 M70 xDrive Revealed as the Fastest EV from BMW
MG Cyberster EV Specs
The EV Roadster will be based on the all-new platform built around the 2017 E-Motion coupe concept and will get a 'cell-to-pack' battery. Although the entire spec sheet has obviously not been revealed yet, it was announced that there will be two variants on offer – a single-motor setup making 309 hp and a dual-motor configuration generating 543 hp of peak power.
The dual-motor version will have an acceleration time for a 0-100 km/h sprint of under 3 secs. The weights of these will be 1,850 kg and 1,985 kg respectively. Boosting the efficiency will be the 'hairpin' wiring technology.
| | |
| --- | --- |
| MG Cyberster EV | Specs |
| Drivetrain | 2WD/AWD |
| Platform | 2017 E-Motion |
| Power (Single-Motor) | 309 hp |
| Power (Dual-Motor) | 543 hp |
| Acceleration (0-100 km/h) | under 3 secs |
| Weight (Single-Motor) | 1,850 kg |
| Weight (Dual-Motor) | 1,985 kg |
Specs
You might also like: How Does Polestar 4 Compare Against Tesla Model Y?
Dimensions
The most powerful MG boasts a sleek new design language. In terms of dimensions, it measures  4,535 mm in length, 1,913 mm in width and 1,329 mm in height. This makes it larger than Mazda MX-5 and Porsche 718 Boxster. These details were revealed by the leaked government filings in China last month. The EV will feature scissor doors accentuating the sporty styling.
| | |
| --- | --- |
| Parameter | Dimensions |
| Length | 4,535 mm |
| Width | 1,913 mm |
| Height | 1,329 mm |
Dimensions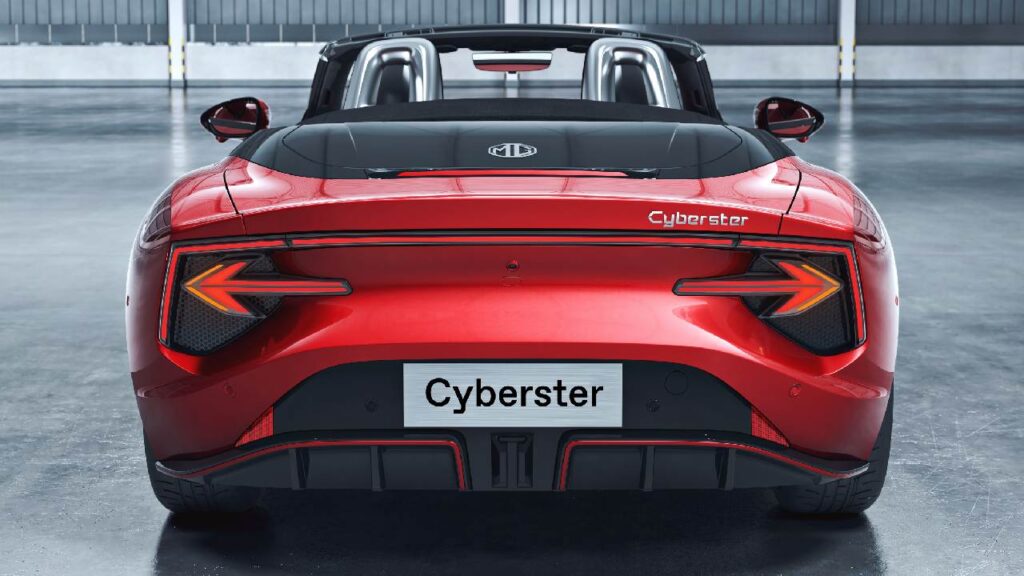 You might also like: Wireless Charging For EVs Could Be Revolutionary Technology
Interior & Features
While not too many details about the interior are known, the Cyberster EV will come equipped with a Tesla-type yoke steering wheel and multiple digital screens for infotainment and other relevant information about the powertrain. The EV will be launched in multiple markets next year (2024).